Your experienced production team for livestream events & webinars.
Professional live streaming solutions for your virtual event.
Throughout Austria with a focus on the greater area of ​​Vienna, Linz, Graz, Eisenstadt and Salzburg.
From a large multi-camera live event to a cozy online seminar - we offer you a comprehensive live stream production in a pleasant and friendly atmosphere.
Thanks to our versatile and flexible equipment we are able to even realize short-term requests for live streaming productions efficiently and with top quality.
Our team is at your service throughout Austria. The focus lies on the areas around Vienna, Linz, Graz, Eisenstadt and Salzburg. Of course we are also happy to realize international livestream events and webinar productions for you.
Your reliable livestream provider
We offer you an efficient solution for your specific requirements. With top-quality cameras, high-quality audio and light equipment as well as a live director with the necessary hardware and software, we implement your live stream event safely.
Parallel to the recording, our live cut offers the possibility to edit the entire stream in post-production and, if necessary, to reprocess it.
Not only our production team but also our equipment is flexible and optimally coordinated. Therefore, we are ideally set up for small, medium and large livestream productions of all kinds. Especially streaming platforms such as Facebook, YouTube or others are particularly suitable for our workflow.

With our camera family, consisting of Sony FX6, Sony FX3, Sony FS7 as well as Sony FS5 and Sony A7iii, we ensure the best quality for your stream. Hence, we are optimally equipped for your live event and can ensure stable transmission either wireless or via SDI or HDMI.
As an experienced livestream company, we know that "sound before picture" is not just a golden rule in the film sector, but also plays a key role in livestreaming. After all, everything should run synchronously and smoothly. That's why we are well equipped. From the practical wireless lavalier clip-on microphone to the gooseneck directional microphone, on a standing desk, we know how to stream sound and image with top quality.
When it comes to a professional look light is crucial. With our flexible LED lights we offer you a modern live stream setup.
With our compact ATEM Mini Extreme ISO live switcher, we are able to control, record and edit up to eight cameras with optimal quality at the event. Also, there are no limits to the post-processing of the recorded stream.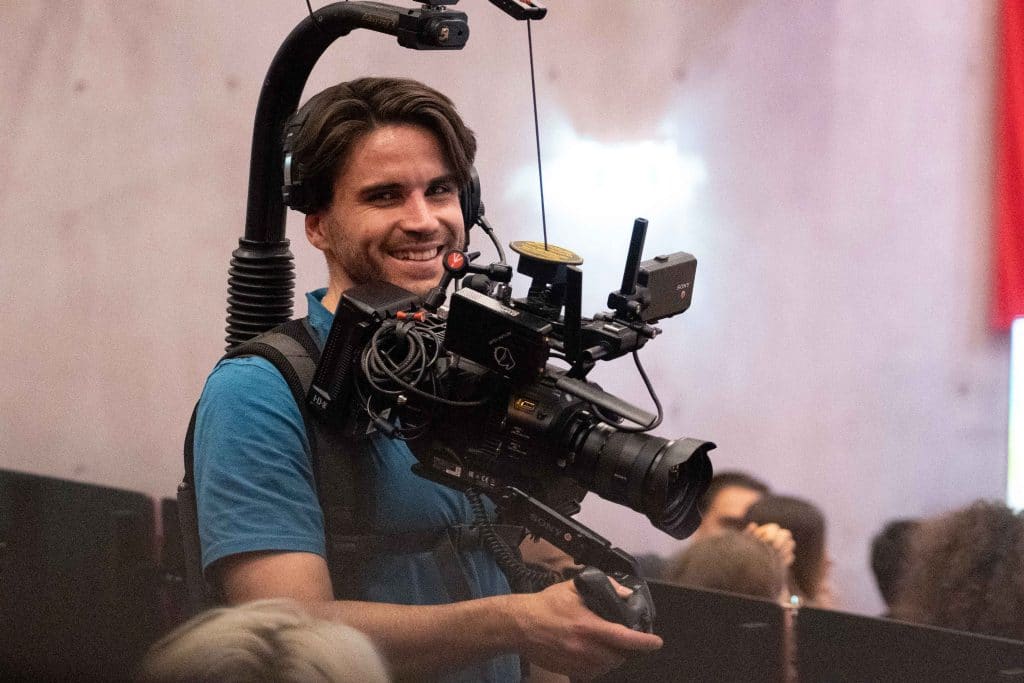 Our livestream productions
What customers say about us:
Super professional, uncomplicated cooperation. Quick comprehension, incredibly proactive creativity - and a result conjured up in turbo time. Gladly again at any time!
The work on our music video was productive, inspiring, professional, musically and, above all, great fun. I still enjoy watching the video again and again and I'm always impressed by this masterpiece.
Our collaboration on various video projects with Fraem OG always works flawlessly and with the highest level of professionalism. We really appreciate the reliability and flexibility.
Through ongoing productions such as for "GO! Das Motormagazin" or "Media Markt" I got to know the guys better and better. A super pleasant working atmosphere combined with creative ideas guarantee fun on set and top quality in the end product.
For me, Fraem is my partner when it comes to authentic and creative video production! I really appreciate their empathy with all wishes of the customer and the precise implementation of them. Simply great guys - professional company!
The video production was enjoyable, fun, and just as professional. We produced five commercials for the TV station ORF with Fraem and are very satisfied with the uncomplicated and relaxed manner of the guys. The videos have turned out great!
An excerpt of a few companies for which we have realized projects.