Your sustainable video agency from Vienna. We produce professional advertising videos for TV and social media throughout Austria.
We offer you a creative and comprehensive video production with a friendly and reliable atmosphere. As an experienced video production company we feel at home in the areas of advertising, TV and social media.
Above all, our customers appreciate our flexible and solution-oriented way of working. We are very familiar with today's requirements and standards of various media platforms and are happy to advise you on how to optimally produce your video.
Our area of activity applies to the whole of Austria, in particular Vienna, Lower Austria, Upper Austria, Salzburg and Burgenland. Of course we are also happy to realize international video projects for you.
We plan, film, cut and animate your promotional video.
We love our job! And our customers feel that too. From the concept to the video shoot and post-production, we work conscientiously and with pleasure. Video production is diverse and so is our offer. So whether you are about to produce an interview, a livestream or a TV commercial - with us, you have come to the right place.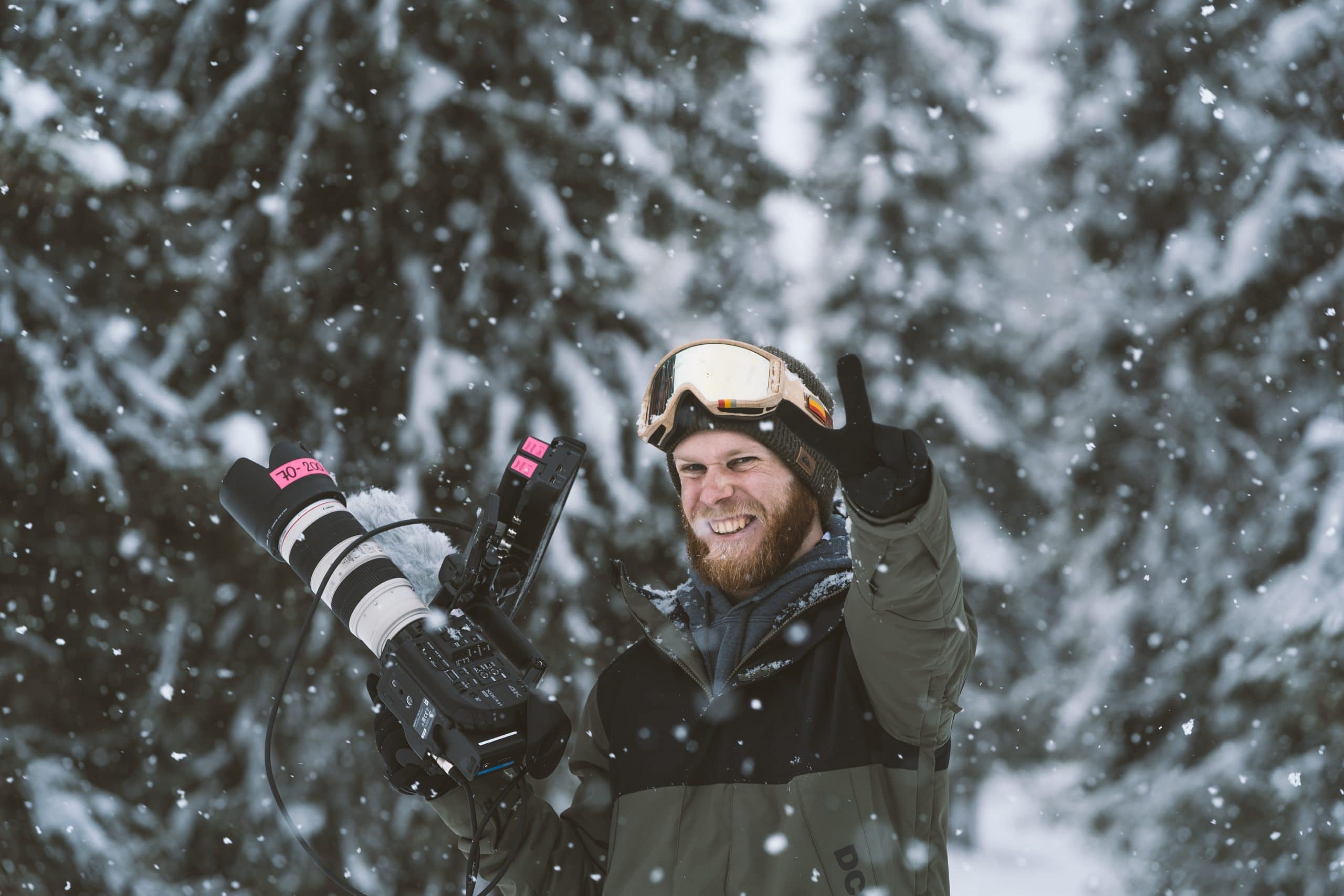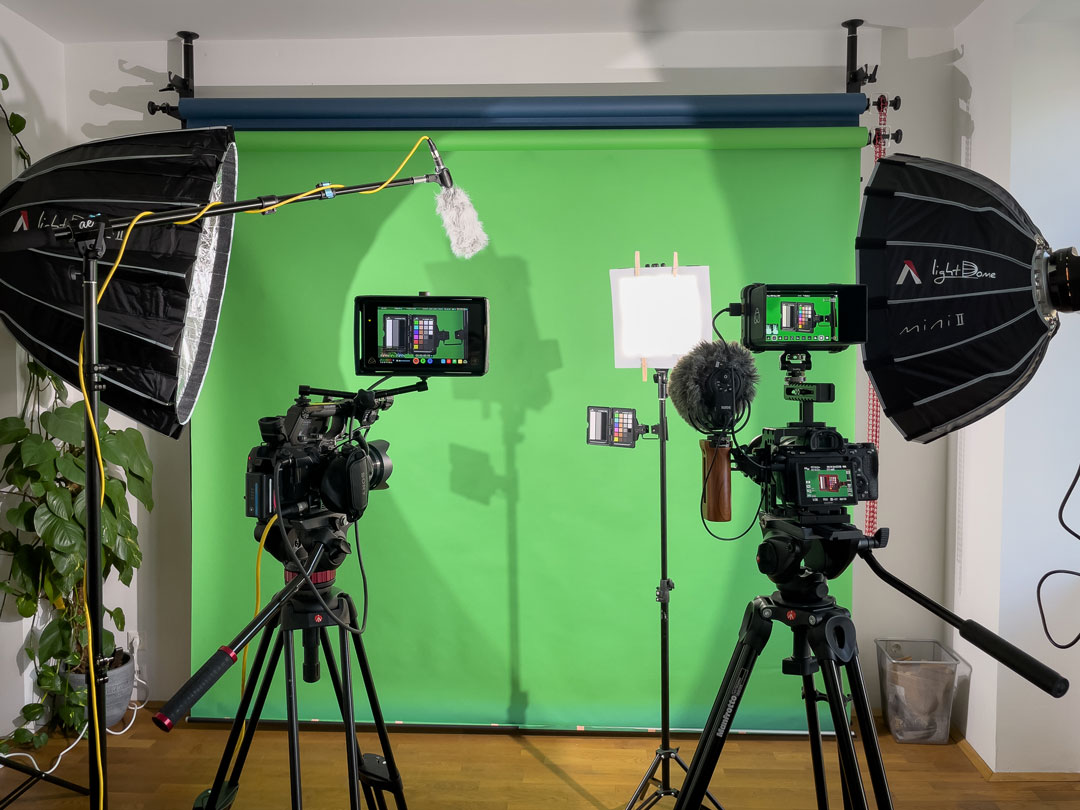 With our camera family, consisting of Sony FX6, Sony FX3, Sony FS7, Sony FS5 and Sony Alpha 7iii, we ensure the best quality for your video. In addition, we are equipped with an external Shogun Inferno video recorder. Our technical equipment enables us to record 4K even with a high frame rate. So if you would like to book a video team, we are always set up with top camera equipment for your advertising video. We are also equipped with a big variety of focal lengths when it comes to our lenses and are therefore prepared for any scenery and look.
We are also well equipped when it comes to lighting and put your project in a good light. Would you like a friendly video look? Or would you prefer something more dramatic? Whatever you choose, we know how. From the classic three-point lighting of an interview to the complex green screen studio setting - we are at your side with the necessary equipment and professional know-how.
Be it in hectic situations, flexible with a boom pole, or in coordinated interview settings - we never miss any tone. Here we primarily work with a RODE boom microphone and a Sennheiser AVC ME2 radio set with AES-256bit signal encryption consisting of a clip-on lavalier microphone and hand mic.
We love to film unique aerial scenes with our DJI Mavic 3. Often it is precisely these special images that give the storytelling of a video production a unique touch. For us as a film team, drones have become indispensable and that is why we are very familiar with the current drone regulations and of course also have the necessary flight authorizations. If you are looking for very special and dynamic aerial scenes, we recommend hiring one of our FPV drone experts.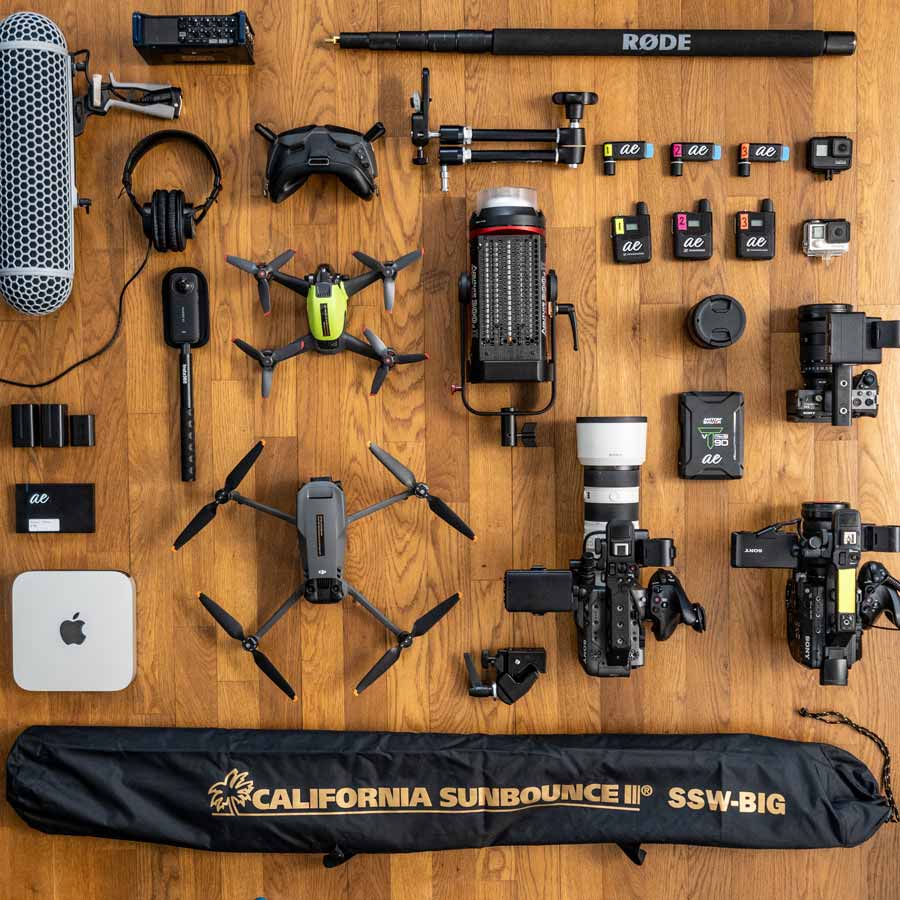 We are also well equipped in these areas. There is hardly a production where our DJI Ronin S or Easy Rig are not in use. This is how we give our commercial film productions their modern and cinematic look.
As soon as the shoot has been successfully completed, we go over to post-production. In our pleasant and computationally strong studio, we can immerse ourselves in any project. All the magic happens here! From editing to color correction, sound design and animation, we give your video the finishing touches.
What customers say about us:
Super professional, uncomplicated cooperation. Quick comprehension, incredibly proactive creativity - and a result conjured up in turbo time. Gladly again at any time!
The work on our music video was productive, inspiring, professional, musically and, above all, great fun. I still enjoy watching the video again and again and I'm always impressed by this masterpiece.
Our collaboration on various video projects with Fraem OG always works flawlessly and with the highest level of professionalism. We really appreciate the reliability and flexibility.
Through ongoing productions such as for "GO! Das Motormagazin" or "Media Markt" I got to know the guys better and better. A super pleasant working atmosphere combined with creative ideas guarantee fun on set and top quality in the end product.
For me, Fraem is my partner when it comes to authentic and creative video production! I really appreciate their empathy with all wishes of the customer and the precise implementation of them. Simply great guys - professional company!
An excerpt of a few companies for which we have realized projects.